Launching Cloud Service Demonstration Project on Idle Assets
~Installation of a container-type data center in Tarumizu City, Kagoshima Prefecture, Japan~
Eurus Energy Group ("Eurus") will install a container-type data center at the former site of public junior high school in Tarumizu city (Kagoshima prefecture) where our power generation site, "Eurus Kihoku Wind Farm I" has been in operation. This data center is to launch the demonstration projects in various cloud services, including CG rendering services, starting this spring 2021.
In this demonstration project, Eurus is planned to set-up a container-type data center which consist of AMD-made high-performance GPU "Radeon ™" and CPU "Ryzen ™". The two components are to be procured by WOODMAN Inc. The cloud solutions for core system will be provided by Morgenrot Inc. The electricity consumption for the relevant facility will be covered by the energy procurement and power supply through our group company, Eurus Green Energy Corporation.
Most of the current animated videos (films, CFs, etc.) and imaging data are generated by computer graphics ("CG"). To deal with CGs production, the motion captured by the living model is descripted into numerical data, then to be proceeded by a computer to form into pictures and videos, and become visible CG animation images. These works require amount of time, and consuming electricity and machine power for the production process. By adopting this relevant CG service, customers may shorten the production time and improve the quality of the video.
Based on our corporate philosophy, "Helping to Preserve the Global Environment by Disseminating and Expanding Clean Energy Technologies.", Eurus group has been considering new initiatives as a renewable energy provider. This time, we have launched an advanced effort to provide this newly added value services for the existing electricity production, in accordance with the cooperation of Tarumizu City and the understanding gained by local residents.
From now on, we are entering into 5G-era, and an increasing demand to the speed and quality in CG production will be getting higher. Through this demonstration project, Eurus group will actively contribute to local communities by utilizing idle assets effectively and other means, while building a new business model for electricity production.
Outline: Business scheme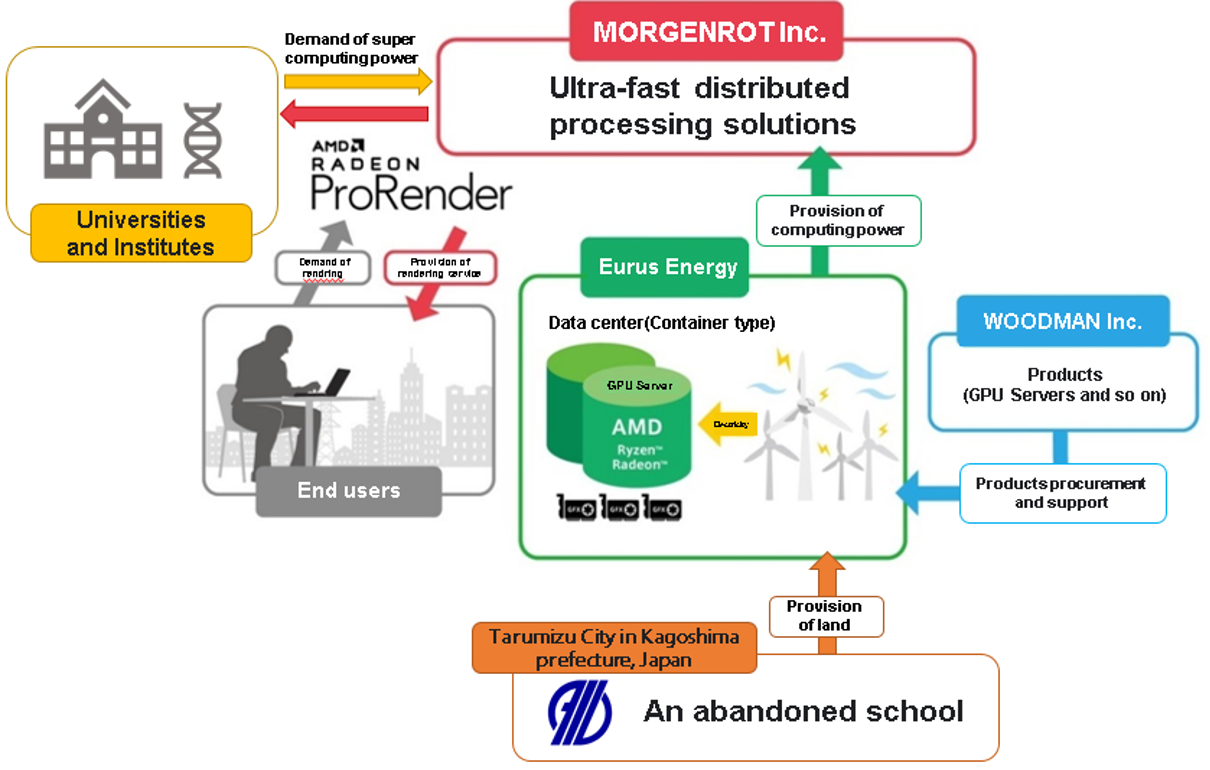 Outline: Location information
| | |
| --- | --- |
| Construction site | Kyowa junior high school in Tarumizu City (Closed in April 2010) |
| Location | Nakamata, Tarumizu City, Kagoshima Prefecture, Japan |
| Total area | 12,774㎡ |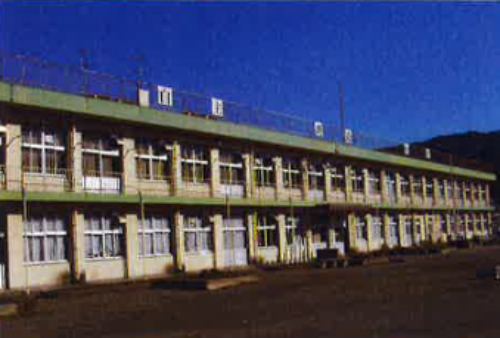 Outline: Container-type Data Center
A custom-designed container-type data center is accommodated in a dry container (size: 40-foot length), which is originally used for transportation purpose in both land and sea cargo. For data center usage, the housing has air conditioning system and special thermal insulation combining with robust and high level security system. It is also given remote monitor and control function as well.
(Large number of AMD Radeon™ Series GPUs are installed inside the container. It makes flexible potential expansion available by increasing containers at the premise.)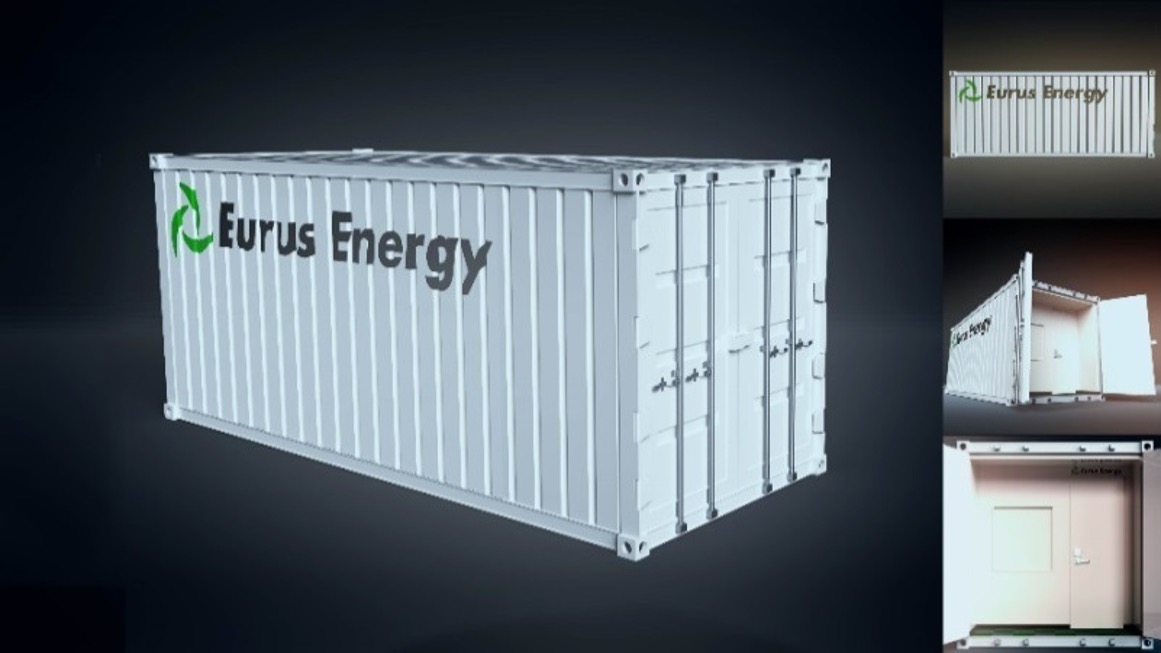 Eurus Energy Holdings Corporation
| | |
| --- | --- |
| Overview | The largest wind power producer in Japan providing both global wind and solar power generation businesses in four global regions: Asia and Oceania (including Japan); the Americas; Europe; Africa. |
| Corporate Name | Eurus Energy Holdings Corporation |
| Official site | https://www.eurus-energy.com |
| Headquarters | Hulic Kamiyacho Building 7th Floor(Visitor Reception:2nd Floor), 3-13, Toranomon 4-Chome, Minato-ku, Tokyo 105-0001, Japan |
| CEO | Hideyuki Inazumi |
Morgenrot Inc.
Overview
Delivering services development, management, and service provision for cloud-based distributed computing power pools based on proprietary distributed processing algorithm Excalibur ™ and provides high-speed rendering service Render Pool™
Corporate Name
Morgenrot Inc.
(Originally means "Summit in the dawn" in German.)
Official site
https://jp.morgenrot.net
Headquarters
R4A, LIFORK AKIHABARA II, 3-13-2, SotoKanda, Chiyoda-ku, Tokyo, 101-0021, Japan
CEO
Hirotaka Inoue
WOODMAN Inc.
| | |
| --- | --- |
| Overview | Expertizing in procurement of hardware necessary for the construction of a computing farm, including consulting on block-chain technology |
| Corporate Name | WOODMAN Inc. |
| Official site | https://woodman-jp.com/ |
| Headquarters | R4C, LIFORK Akihabara II, 3-13-2, SotoKanda, Chiyoda-Ku, Tokyo, 101-0021,Japan |
| CEO | Shinjiro Ono |
AMD (Advanced Micro Devices, Inc.)
| | |
| --- | --- |
| Overview | An U.S. manufacturer of semiconductor providing global-scale services in development & sales of information products (hardware): CPUs; GPUs; APUs; chipsets. |
| Corporate Name | Advanced Micro Devices, Inc. (AMD) |
| Official site | https://www.amd.com |
| Headquarters | 2485 Augustine Drive, Santa Clara, CA 95054 U. S. A. |
| CEO | Lisa Su, Dr. |