Commencement of Demonstration Project of Eurus Energy's First Battery Energy Storage System using Electric Vehicle Storage Batteries – Aiming to Stabilize Renewable Energy Power Supply and Demand –
Eurus Energy Holdings Corporation ("Eurus Energy") announced today the completion and commencement of operations of its first battery energy storage system using Electric Vehicle (EV) batteries, which was built jointly with Toyota Tsusho Corporation ("Toyota Tsusho"). The system was installed at the Eurus Tashirotai Wind Farm (location: Kazuno City, Akita Prefecture, capacity: 7.65MW) and is aimed at further expanding the introduction of renewable energy and stabilizing electricity supply and demand. The demonstration project is conducted in collaboration with Toyota Tsusho, Tokyo Electric Power Company Holdings, Inc., and Toyota Motor Corporation.
Eurus Tashirotai Wind Farm, which started operation in November 2002, has been subject to a feed-in tariff (FIT) since 2012 and its FIT period ended in February 2023. The goal of the project is to work toward resolving the instability of generation issue, common to renewable energy power sources, by operating the battery energy storage system on-site at the wind farm. In addition, verification will be conducted on methods to maximize the value provided by large-scale wind power plants that have reached the end of their FIT periods and ensuring business continuity as long-term power sources.
This demonstration project will be conducted for several years in cooperation with Eurus Green Energy Corporation (EGE), a group company which operates retail electricity sales. Together, Eurus Energy and EGE will evaluate the project operation and performance with the aim of optimizing the charge and discharge of batteries based on price fluctuations in the domestic wholesale electricity market and the supply and demand situation of retail electricity providers, with the aim to provide control that contributes to stabilizing the electricity system.
The battery energy storage system (output: 1 MW, capacity: 3 MWh) is jointly developed with project partners by combining the vehicle batteries, control parts and technology used in Toyota Motor Corporation EVs, with the grid connection expertise of Tokyo Electric Power Company Holdings, Inc. New EV batteries are used for the purposes of this demonstration project, in anticipation of reusing of end-of-life EV batteries in future operations. The operation and performance of the battery energy storage system will be verified through this project.
Through this demonstration project, Eurus Energy aims to promote activities for realizing a decarbonized and recycling-oriented society through the spread and expansion of renewable energy.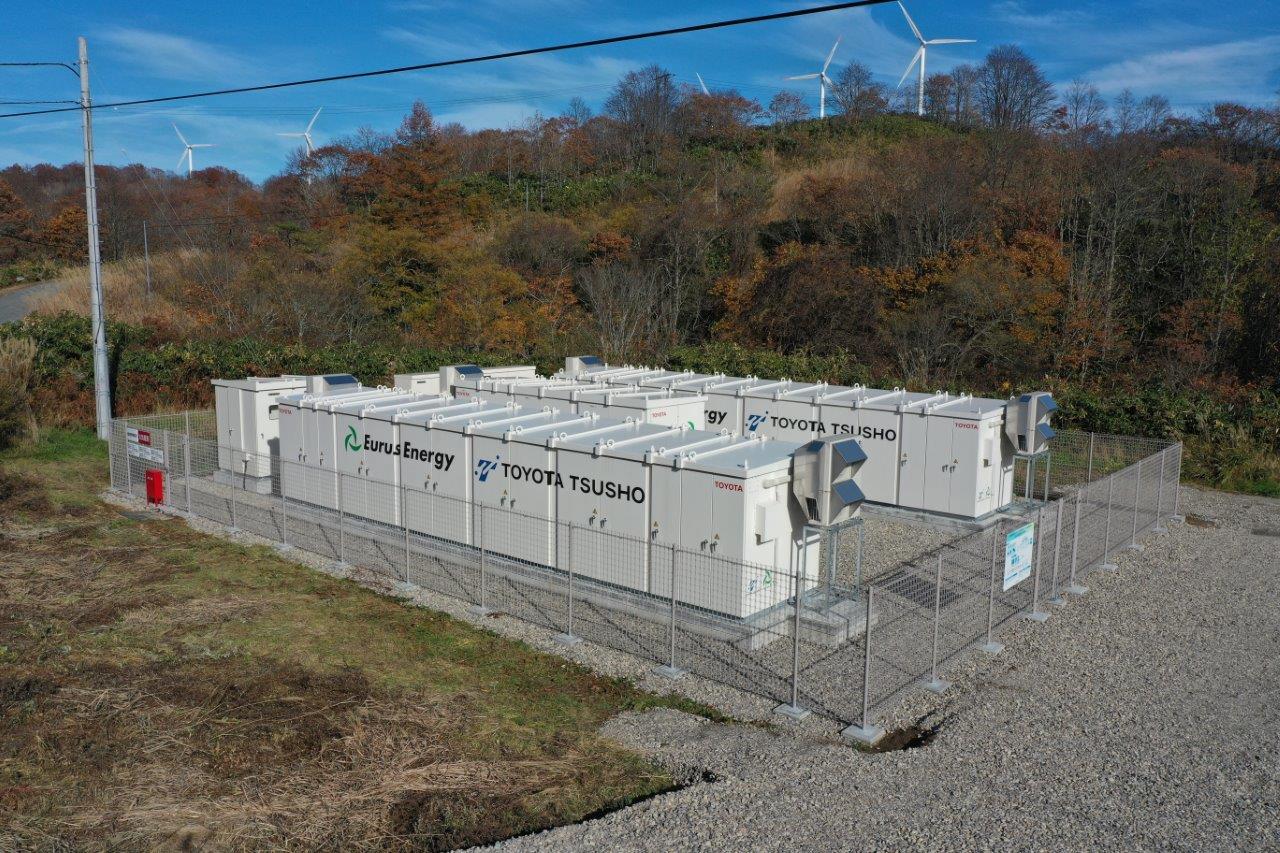 【Outline of Demonstration Project】
Period

for several years beginning November 1, 2023

Location

Eurus Tashirotai Wind Farm (Kazuno City, Akita Prefecture)

Details of the Verification

- Maximizing the value provided and ensuring business continuity of large-scale wind power plants whose FIT periods have expired by operating the battery energy storage system
- Optimal operation of charging and discharging of storage batteries
【Outline of Battery Energy Storage System】
Facility Scale

output: 1 MW
capacity: 3 MWh

Developer

Jointly developed by Tokyo Electric Power Holdings, Inc. and Toyota Motor Corporation
<Verification Project Implementation Structure>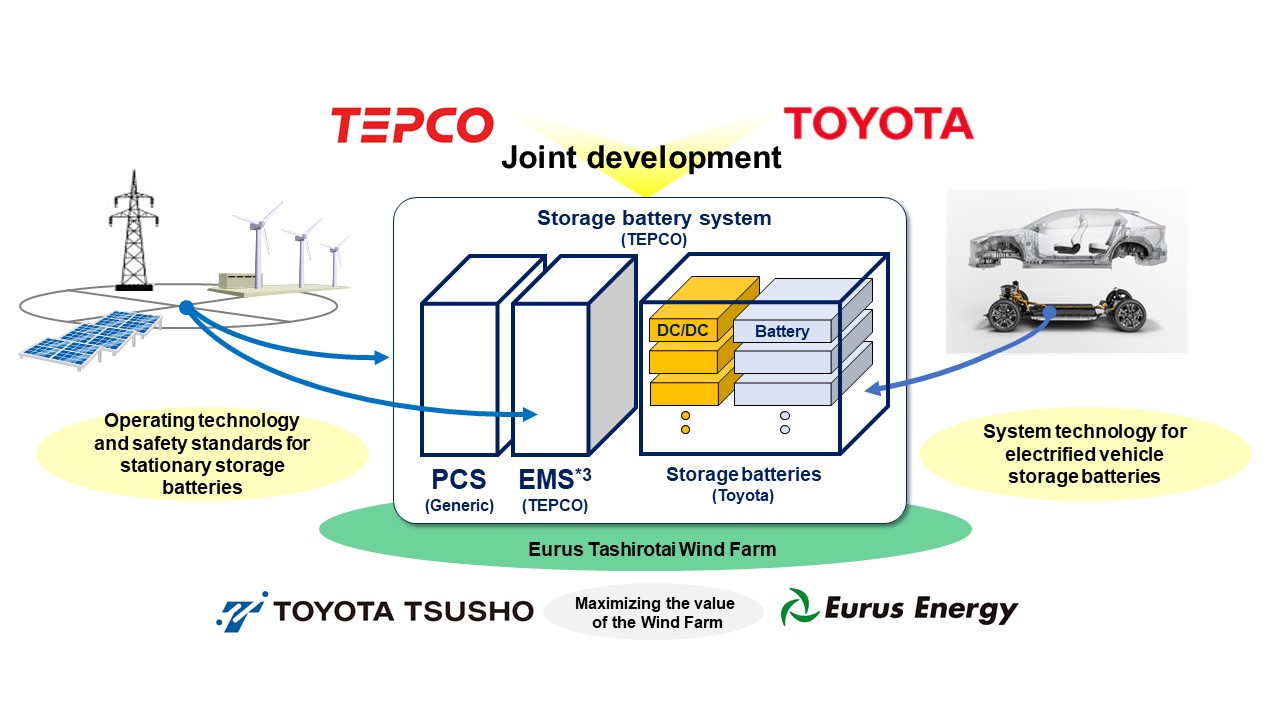 *1 PCS (Power Conditioning System):
     Equipment that connects storage batteries as a DC power source to supply AC power to the electric power system and various electrical equipment
*2 EMS (Energy Management System):
     Energy management system for storage batteries