Eurus Energy Launches CG Rendering Pilot Project for Idle Assets
~Installation of a containerized data center completed, Opening ceremony held~
Eurus Energy Holdings Corporation ("Eurus") has completed the installation of a containerized data center for CG rendering in Tarumizu City, Kagoshima Prefecture, which was constructed in collaboration with Morgenrot Inc. ("Morgenrot"). The data center pilot project was installed on the former site of a junior high school near the "Eurus Kihoku Wind Farm I", and started operation on April 14, 2021. An opening ceremony was held on April 22, 2021.
In this pilot project, Eurus will operate the containerized data center, with a cloud solution provided by Morgenrot as a core system, to provide various cloud services, including CG rendering (selling computing power for data processing in CG production, etc. via the internet). This will represent a new business activity for Eurus.
The data center consists of AMD's high-performance "Radeon™" GPUs and "Ryzen™" CPUs procured by WOODMAN Inc., and powered by clean energy procured through Eurus' group company, Eurus Green Energy Corporation.※1
Mayor Owaki of Tarumizu City, who cooperated providing the land for installing the facility, said, "I am very pleased that, as a local government, we are able to utilize idle land in Tarumizu City to contribute to addressing urgent national and regional issues, such as digital transformation, environmental sustainability, and energy management, . We hope that this will be an opportunity foster expansion of similar efforts."
Based on our corporate philosophy, "Helping to Preserve the Global Environment by Disseminating and Expanding Clean Energy Technologies", Eurus seeks to proactively contribute to the local communities in which it operates its wind and solar farms. Through this pilot project, we seek to effectively utilize idle assets, and to build a new business model for electric power by selling electricity in another form.
※1 Initial operation will consume normal electricity from the grid, before transitioning to clean electricity supplied by Eurus's electricity retailer, Eurus Green Energy Corporation.
Outline: Business scheme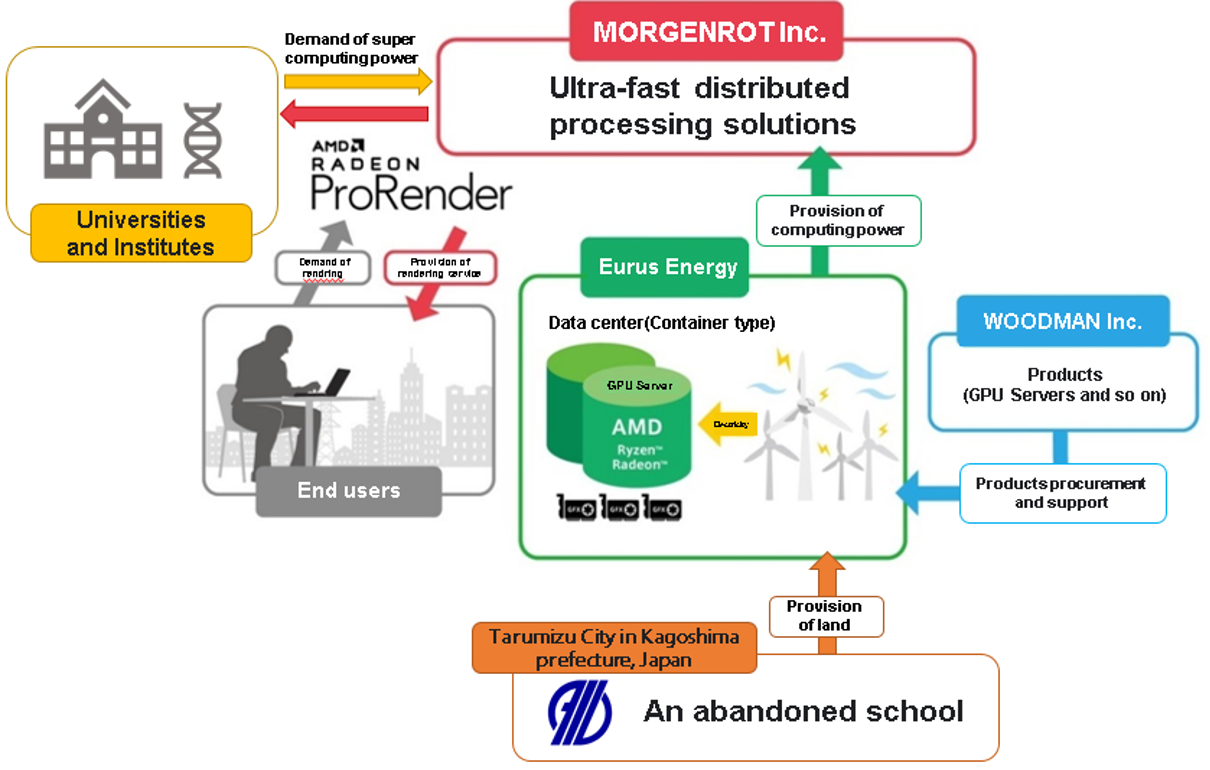 Outline: Location information
| | |
| --- | --- |
| Construction site | Kyowa junior high school in Tarumizu City (Closed in April 2010) |
| Location | Nakamata, Tarumizu City, Kagoshima Prefecture, Japan |
| Total area | 12,774㎡ |
Outline: Container-type Data Center
A custom-designed containerized data center is accommodated in a dry container (size: 40-foot length), which is originally used for transportation purposes in both land and sea cargo. For data center usage, the container has an air conditioning system and special thermal insulation, combined with a robust and high level security system. It is also has remote monitoring and function control as well.
(Large numbers of AMD Radeon™ Series GPUs are installed inside the container. It has flexibility for expansion by increasing containers at the premise.)  

Photo of Opening Ceremony

Eurus Energy Holdings Corporation
| | |
| --- | --- |
| Overview | The largest wind power producer in Japan providing both global wind and solar power generation businesses in four global regions: Asia and Oceania (including Japan); the Americas; Europe; Africa. |
| Corporate Name | Eurus Energy Holdings Corporation |
| Official site | https://www.eurus-energy.com |
| Headquarters | Hulic Kamiyacho Building 7th Floor(Visitor Reception:2nd Floor), 3-13, Toranomon 4-Chome, Minato-ku, Tokyo 105-0001, Japan |
| CEO | Hideyuki Inazumi |
Morgenrot Inc.
Overview
Delivering services development, management, and service provision for cloud-based distributed computing power pools based on proprietary distributed processing algorithm Excalibur™ and provides high-speed rendering service Render Pool™
Corporate Name

Morgenrot Inc.

(Originally means "Summit in the dawn" in German.)

URL
https://jp.morgenrot.net
Headquarters
R4A, LIFORK AKIHABARA II, 3-13-2, SotoKanda, Chiyoda-ku, Tokyo, 101-0021, Japan
CEO
Hirotaka Inoue
WOODMAN Inc.
| | |
| --- | --- |
| Overvier | Expertizing in procurement of hardware necessary for the construction of a computing farm, including consulting on block-chain technology |
| Corporate Name | WOODMAN Inc. |
| URL | https://woodman-jp.com/ |
| Headquarters | R4C, LIFORK Akihabara II, 3-13-2, SotoKanda, Chiyoda-Ku, Tokyo, 101-0021,Japan |
| CEO | Shinjiro Ono |